No.1 IELTS Coaching Center in Ludhiana. - Ludhiana
Friday, 4 October 2013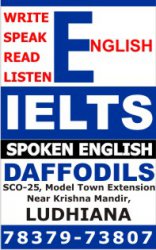 Contacts

daffodils english academy

9216509206
Item description
No.1 IELTS Coaching Center in Ludhiana.

Daffodils English Academy, Ludhiana is a coaching Institute of IELTS, TOEFL, SAT, GMAT, Spoken English. Daffodils English Academy is the best IELTS preparing institute in Ludhiana. It has over 1500 students preparing for IELTS. Daffodils English Academy has several braches located at Chandigarh, Ludhiana, Moga, Jalandhar, Amritsar, Jammu, Delhi, Noida.

Daffodils English Academy offers a wide range of coaching services in IELTS training, Spoken English Training & Personality Development, TOEFL training, GRE Training, GMAT training with latest training methodologies.

Contact Address:- Daffodils Study Abroad, SCO : 25, Model Town Extension, Near Krishna Mandir,
Ludhiana.+91-92165-09206

Ielts Coaching In Ludhiana, Ielts classes, ielts traning In Ludhiana.