Imported and champion yorkshire terrier puppies for sale at clawsnpawskennel - Ludhiana
Monday, 9 January 2012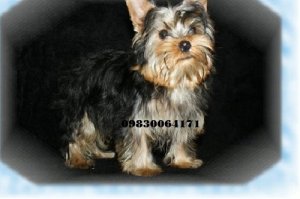 Contacts

Sangeeta Banerjee

9830064171
Item description
Breed name: Yorkshire terrier
Colour: black/tan with blue
Paper: KCI Registered.
Age:2 mon
Available with vaccinated card and dewormed on 21days of the pup.
We have Yorkshire Terrier which comes from champion bloodline Yorkies are lively, bold, and intelligent They bark when they sense danger. Though small, the Yorkshire Terrier is active, loves attention. The Yorkshire Terrier is considered to be one of the more difficult breeds to housebreak.We can take care of delivery for all over India. No transportation charges.
Please call on9830064171 or email us at clawsnpawsplanet@gmail.com. Visit us at www.clawsnpawskennel.com.